Erikoiset kontinkäsittelylaitteet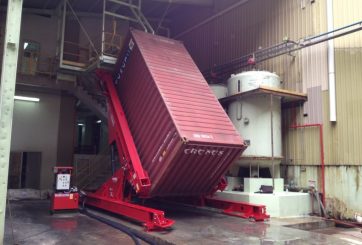 MAKE CONTAINER LOADING MORE PROFITABLE
20/40 FT TILTING CONTAINER LOADING (MiTiltTM)
MiTilt™ has reshaped the way the world handles bulk materials. A-Ward's revolutionary tilting container loader allows you to fill up every last inch – and do it faster – using the power of gravity. By making short work of big loads, you'll save time and money.
With more than 500 working container tilter installations, you can't beat A-Ward's experience to solve your problem.
Streamlines your bulk handling steps
Loads in less than five minutes
Eliminates double-handling
Reduces manpower required
Improves loading accuracy
Vertical loading or controlled angle options
Improves operator safety
Requires minimal yard space
Withstands the toughest workloads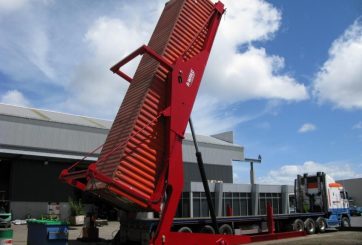 The faster, smarter way to unload Containers
Whatever the containing unloading requirements of your operation, A-Ward has a solution to help you do it faster and more cost-effectively.
All our unloaders are designed to boost productivity and benefit your bottom line. Our unique MiTilt™ unloader eliminates the need for tilting trailers. For instance, while our innovative raised models save the cost of building an expensive in-ground system. The comprehensive A-Ward range includes simple and affordable container unloader units, through to fully-customised technology that is integrated within your plant.
See the tabs below to find the best A-Ward unloader for your needs. Trust us to supply the right unloader for your needs – or we will invent it. If you need a customized option, just get in touch with our team.