Container lifting devices 500 – 2000 mm
Lifting devices are suitable for lifting containers from the vehicle and lowering them to the ground without a crane or forklift.
The container lifting devices are modularly designed so that even your special requirements can be implemented at a reasonable price.
The system consists of four lifting supports (legs), the load capacity of each of which is about half of the total load capacity.
Depending on the application, the following values ​​are achieved:
Capacity 4 – 20 t
Lifting height 500 – 1750 mm (option max 2000 mm)
Connecting to ISO corners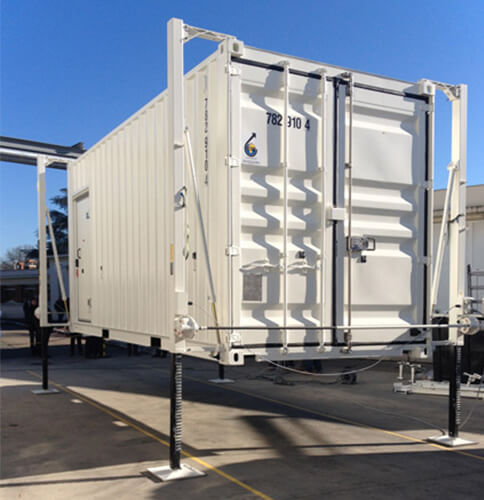 Industrial Lifting
A special feature is the position control based on the Position Control Innovative inclinometer:
Lifting and lowering functions on uneven terrain
Automatic slope registration
Slope offset 0 degrees
Accuracy +/- 0.1 degrees
Safety stop when the slope exceeds 3.5 degrees (or 6 degrees if required)
As an additional accessory, a control unit for lifting supports
In addition to standard lifting systems, we offer customer-specific solutions
Abnormal lifting height
Abnormal bearing capacity
Special connection and disconnection systems
Special base plates
Attachments for easy transport of the lifting legs
Asiakaskohtaisesti toiminnallisuuden ja aiotun käytön mukaan suunniteltuja järjestelmiä
Customer-specific systems designed according to functionality and intended use
Special colors and coatings
Expertise and advisory service in tests, test drives and equipment
Our products are TUV tested.
Each system is subjected to a load and functionality test in our own premises