Lifting tables, loading docks, goods pallet lifts
Lifting tables
We offer lifting tables for demanding industrial use for loads up to 125 tons, without forgetting lighter use. Our selection is wide and we believe that in our selection you will also find an option suitable for your needs.
We also offer a wide range of standard special applications as well as customized solutions.
For the offer, we would like answers to the following questions: Lifting table questions
The lifting table is a very versatile lifting device. The lifting table can be used to lift different pieces/products from one level to another. Lifting tables are used throughout the industry. And at most for loads of 125 tons.
Use of the lifting table
At its simplest, the lifting table is used so that the pieces are lifted from floor level to an ergonomic working height where the actual work is done in the correct working position. This is how it works, e.g. in the assembly industry, workshops, maintenance facilities, warehouses. This can also improve the well-being of the personnel.
The lifting table is also used at loading docks where loads can be lowered or raised to the right height so that the pieces can be moved to or from the truck. Lifting tables are also used as goods pallet lifts, which are used to move items from one floor to another.
Conditions and surface treatment
Lift tables can be used in all conditions, indoors, under a canopy outdoors or directly outdoors. The surface treatment is available in steel, galvanized steel or also stainless steel options for difficult conditions.
The program includes basic structures but also fully customized solutions according to the customer's needs.
Manufacturers' brochures:
Onderlift:
1-scissors, 2-scissors, 3-scissors, low tables, general brochure.
Armanni:
Lifting tables Armanni
Angel Mir:
Standard structures
1-scissors for loads max 125 tons
Multiple scissors max 50 ton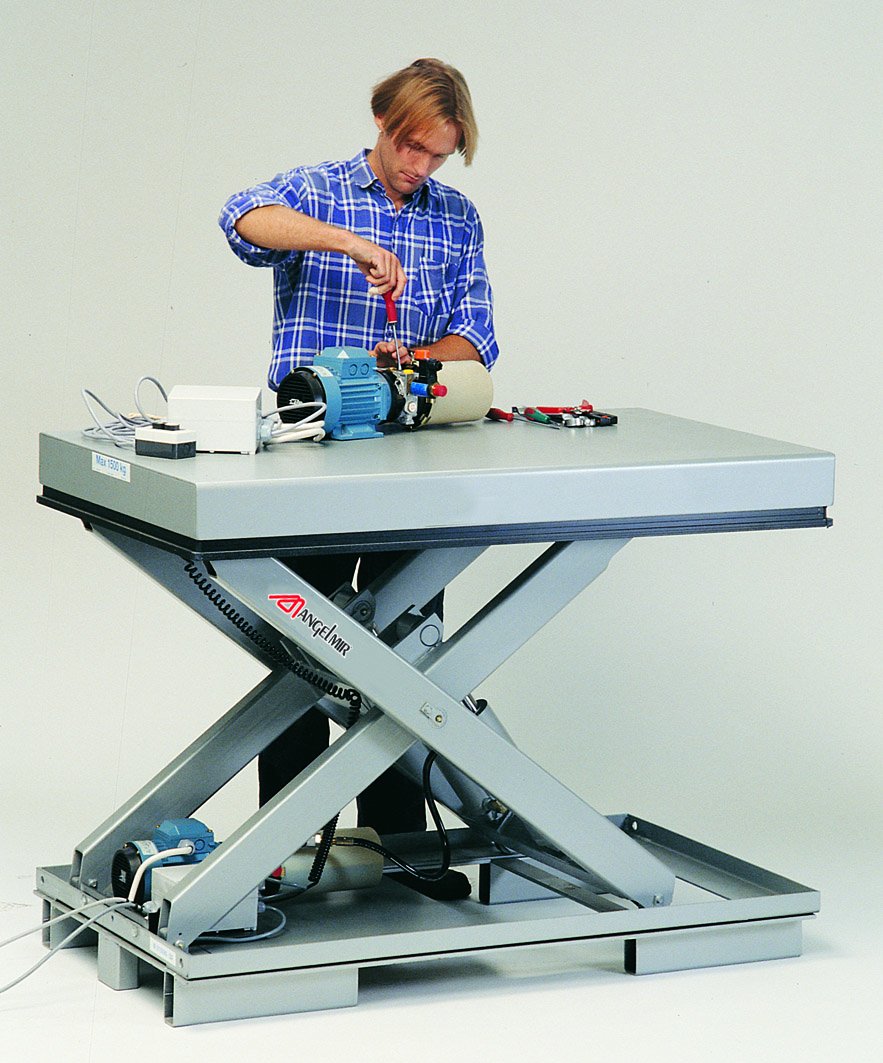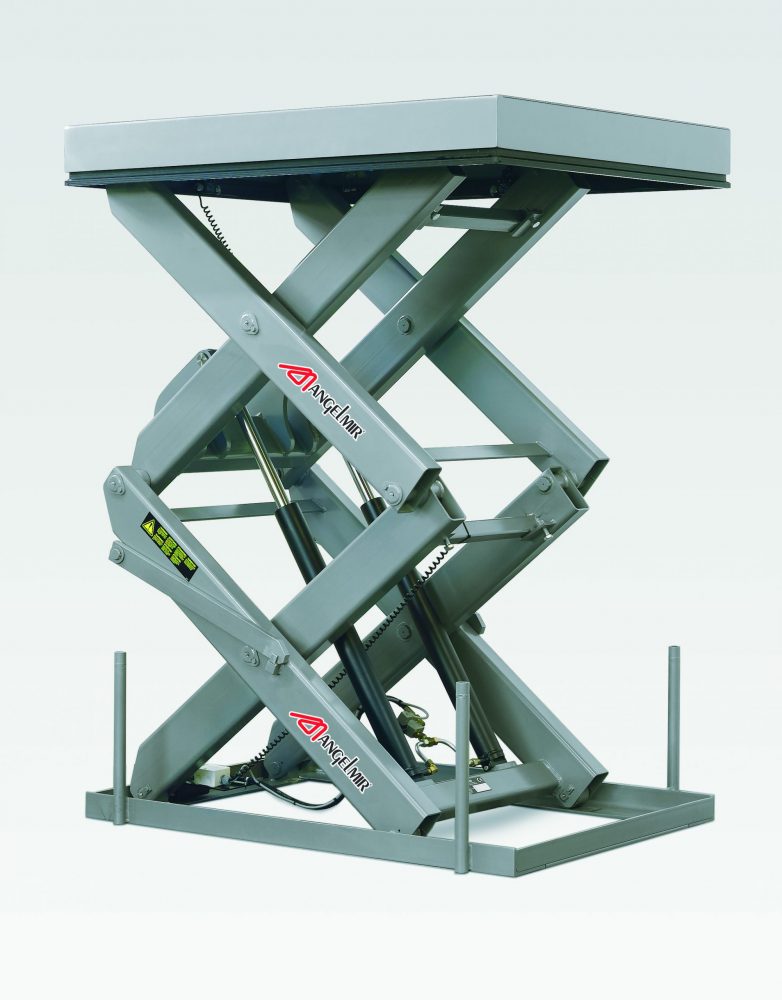 Low, U and E model tables
also with stainless steel surface treatment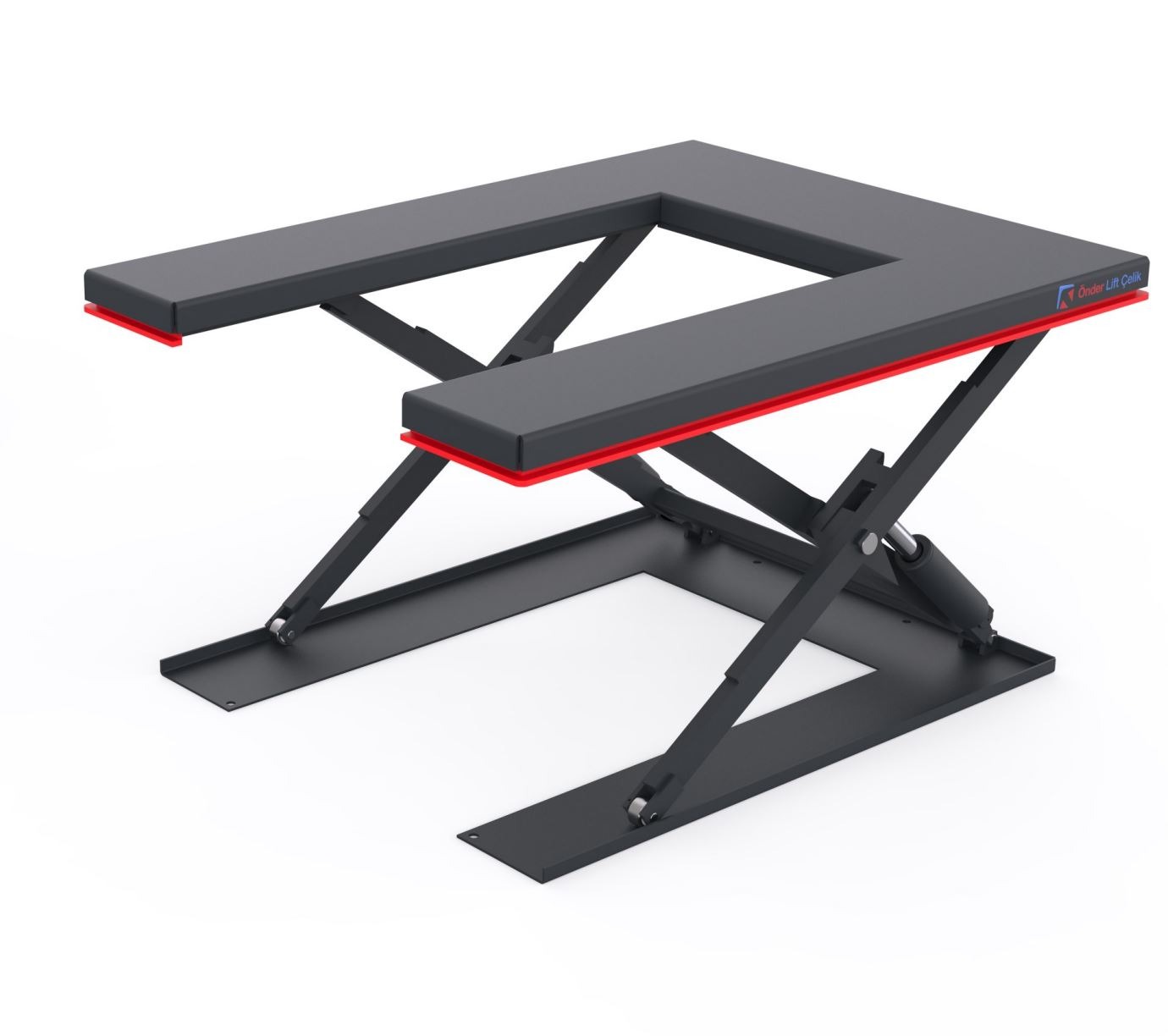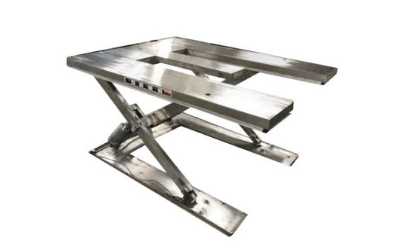 Stainless steel lifting tables
Other special tables and models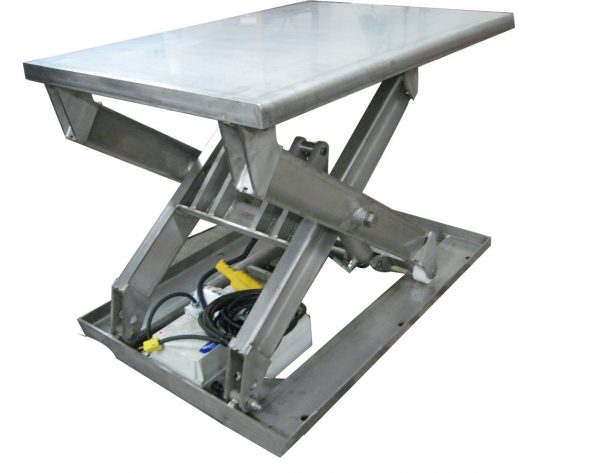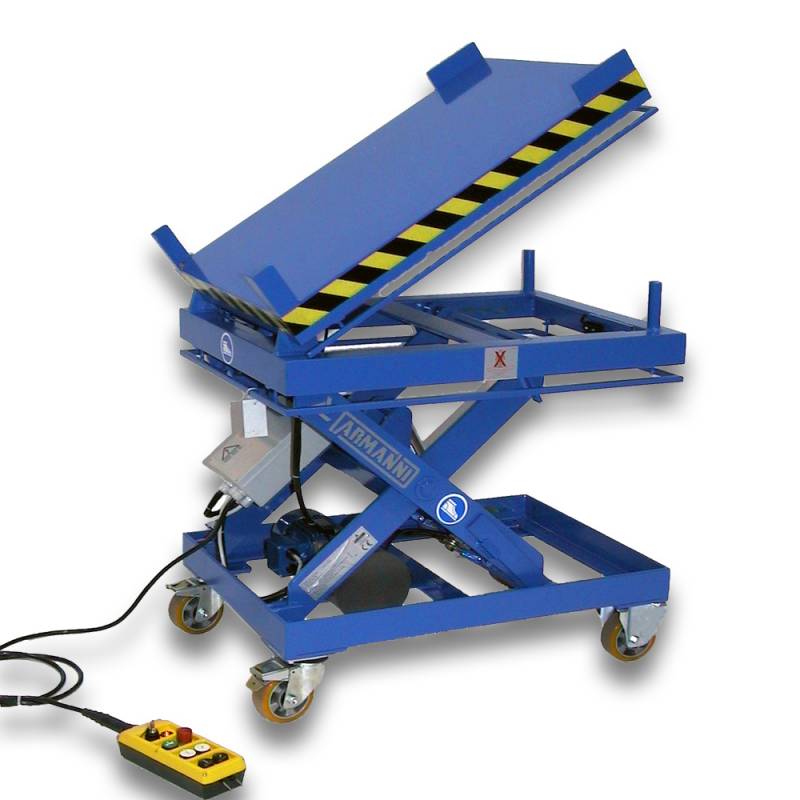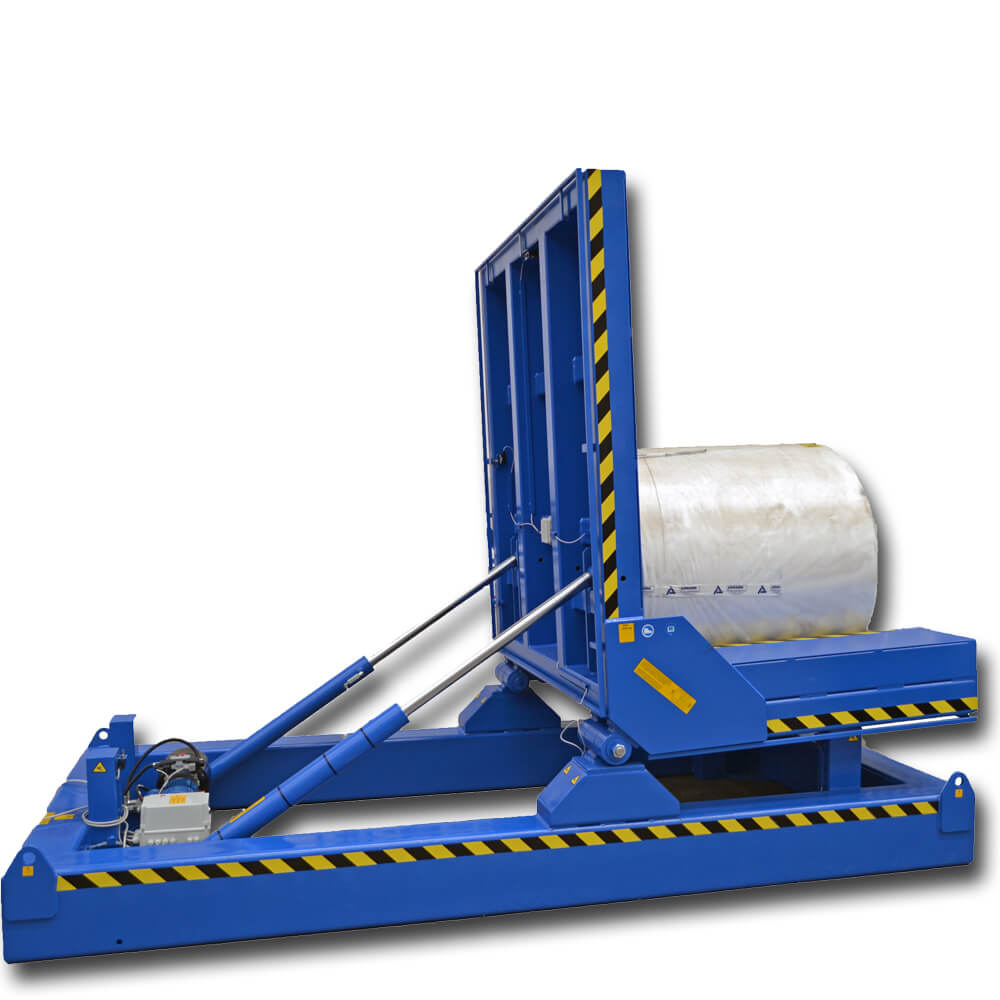 Watch the video about the tipping table.
Special lifting tables
Nostopöytävalikoima on laaja,ja sitä lisää vielä suuri valikoima lastauspöytiä, niiden varusteet sekä tavaralavahissit ja teollisuuden ovet. The selection of lifting tables is extensive, and it is supplemented by a large selection of loading tables, their accessories, as well as goods pallet lifts and industrial doors. Lifting tables, loading docks and industrial doors are supplied to us by several suppliers, so we can always choose the best option for each of our customers.
Send us an inquiry and we will answer soon, and tell you how we can serve you. Lifting table questions
Manufacturers' brochures:
Onderlift:
1-scissors, 2-scissors, 3-scissors, low tables, general brochure.
Armanni:
Lifting tables Armanni
Angel Mir:
See the brochures above for accessories!
Basic technical specification
The lifting tables are CE marked and manufactured in accordance with the EU Machinery Directive and the Euronorm EN1570. Two maintenance supports keep the table firmly in place during maintenance and repairs. Power supply is 3 x 400V3v50Hz. The control voltage is 24V DC. The protection class of the table is IP54.
Safety is increased by the safety strips, below the tabletop of the lifting table, which stop the lowering movement of the table if there is an obstacle in between.
The hydraulic hoses are equipped with hose break valves to prevent uncontrolled descent. The overload protection is adjusted according to the maximum load. he hydraulic cylinders are chrome-plated and polished and tested and equipped with high-pressure seals.
All lifting tables are factory tested with +30% overload. The tables are equipped with lifting eyes. The tables are also equipped with upper limit switches.
The lifting tables are made of high-quality components, which improves reliability, durability and safety.
1. Compact hydraulic power unit with metal oil tank. The hydraulic unit is equipped with an overflow valve as standard. A suction filter is built into the tank to minimize noise. The protection class of the unit is IP65, the motor is IP54, splash water resistant.
2. The square steel construction of the scissor arms provides excellent lateral stability. Strong large bearings in all moving parts reduce the load on the bearing, in addition, grease nipples and anodized pins in all joints extend the life of the equipment.
3. Precisely machined scissors, bearings and machined profiled support arms ensure smooth performance and precision of movement.
4. The metal profile safety frame eliminates the risk of crushing.
5. The hydraulic cylinders are equipped with dampers, so that stopping at extreme positions is smooth. Each cylinder is equipped with a hose break valve, which ensures an immediate stop in the event of a pipe or hose break.
6. Strong load wheels ensure perfect load balancing and eliminate transverse loads, thus extending service life. The wheels are anodized.
7.Upper limit switch, with which it is easy to adjust the stroke length.
8. Mechanical maintenance supports guarantee safe maintenance procedures.
9.Quickly replaceable anodized pins and bearings facilitate the maintenance of the lifting table.
10. CE marked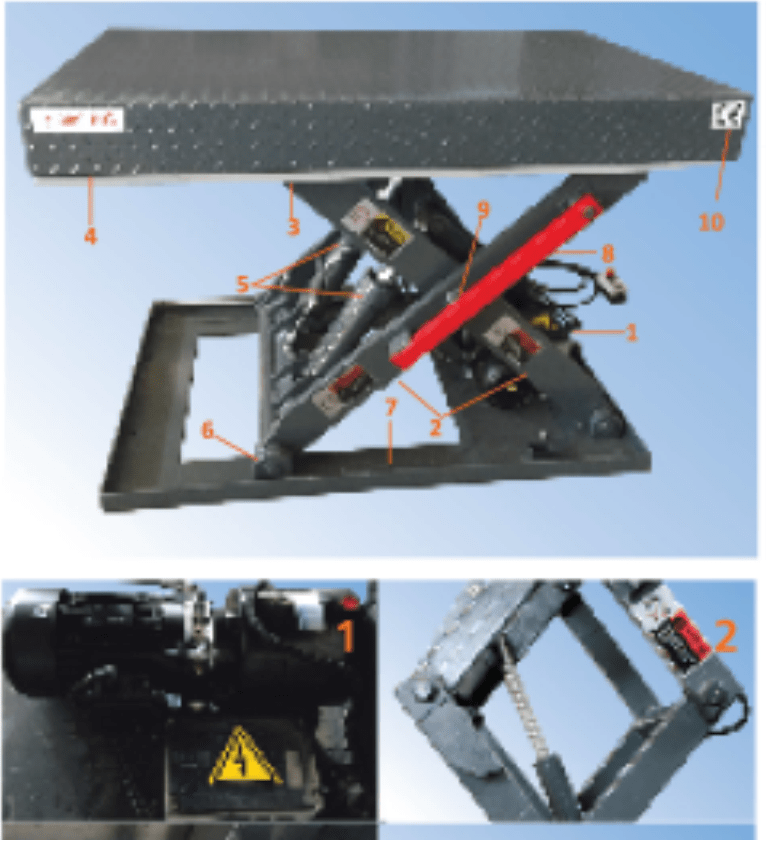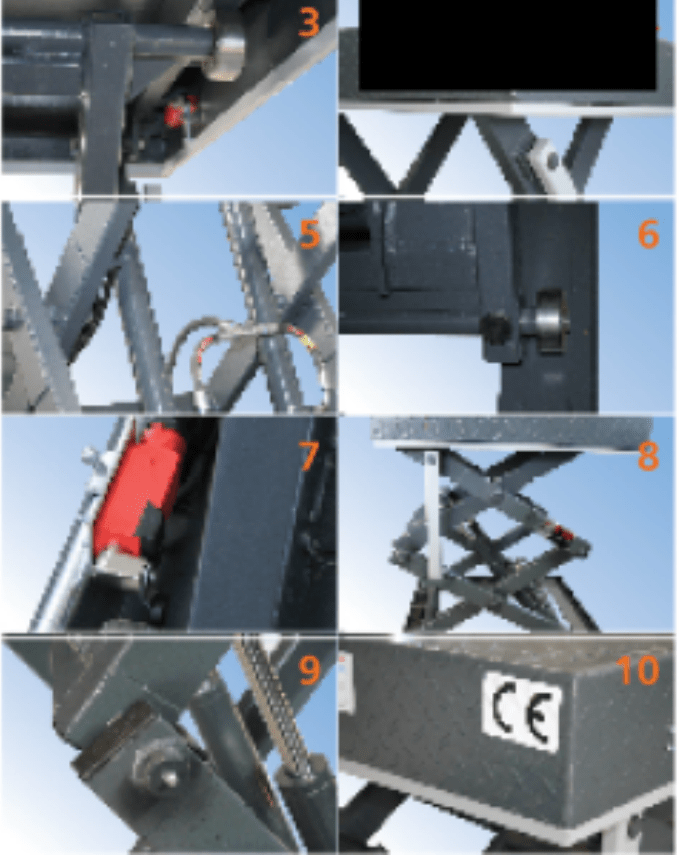 Search words: Lift table, lift tables, scissor table, scissor tables, low lift tables
For the offer, we hope for answers to the following questions: Lift table questions!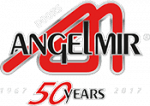 Goods platform lifts/goods elevators.
Go to the website of the manufacturer Onderlift
We offer goods pallet lifts for demanding industrial use. for loads of up to 30 tons. The hoists have 1 to 4 masts, and can be attached to a wall, a shaft or they can be free standing. The lifts are manufactured in accordance with the machinery directive 2006/42/EC and standards EN1570-1,2. Our selection is wide and we believe that in our selection you will also find an option suitable for your needs. Ask for more information.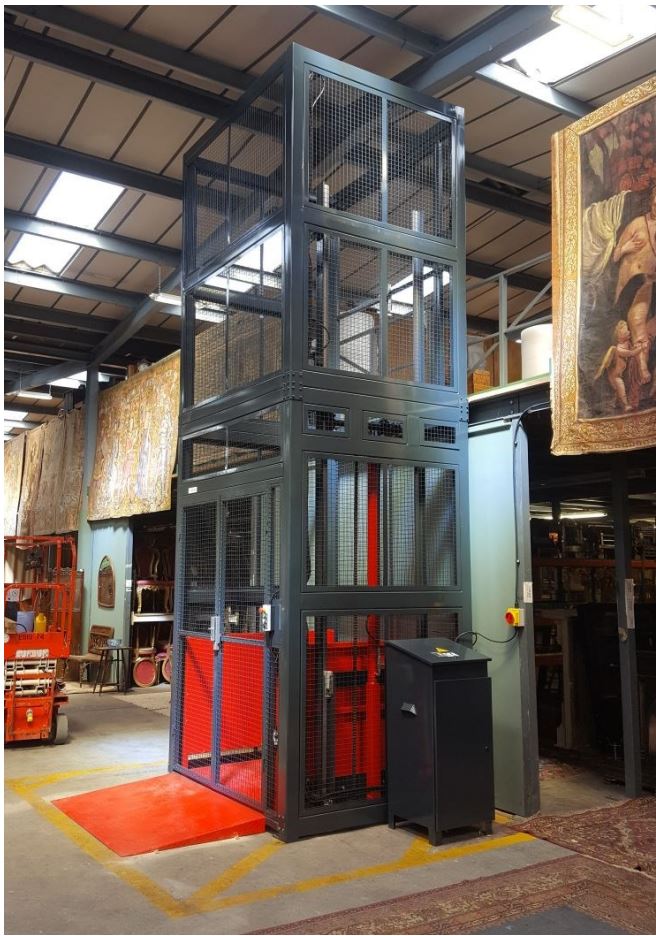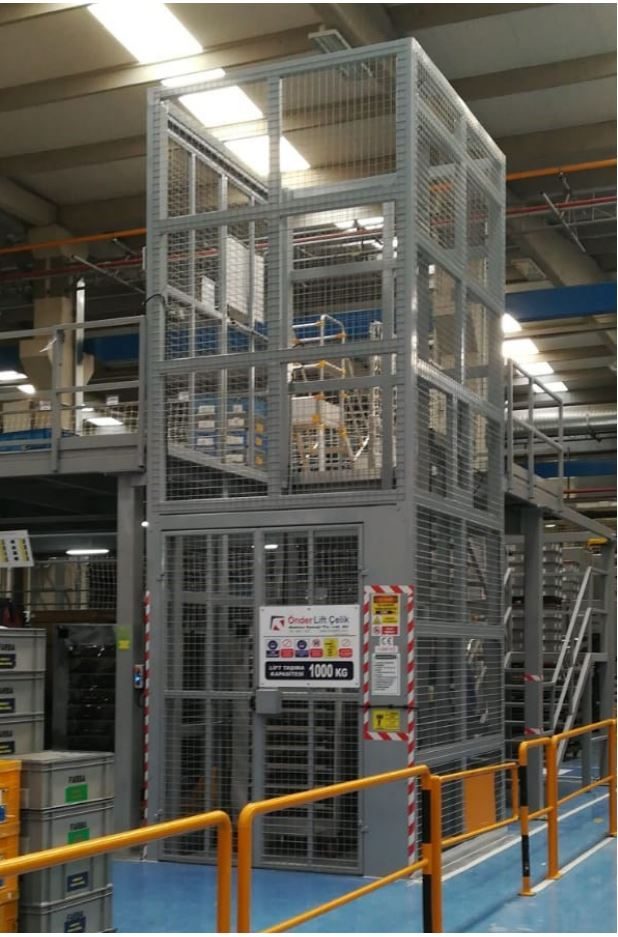 General information
The lifting capacity can be from 500 kg to 30,000 kg.
Very economical compared to traditional passenger lifts.
Does not require a conventional elevator shaft/room.
Designed for free standing, shaft or wall mounting, and other multi-level applications.
Equipped with all necessary security systems.
No need for a deep pit or roof space.
Hydraulic, mechanical and fully automated systems.
Can be used with conveyor systems.
Loading docks and equipment:
Cheaper to install, use and maintain than passenger lifts.
Pienet kuormat ja paketit nostetaan nopeammin ja turvallisemmin.
Small loads and packages are lifted faster and safer.
Ohjelmassa myös erilaisia ​​automaattisia ja puoliautomaattisia ovia.
The program also includes various automatic and semi-automatic doors.
Loading and unloading processes can be done from three sides of the pallet.
Safer than using a forklift to move materials between levels.
A safe, efficient and convenient way to transfer materials from one level to another.
Loading dock accessories:
Stops: rubber and metal reinforced
Loading dock accessories:
Stops: rubber and metal reinforced